The bad-
This has not been a great two weeks. I feel like every time I try to blog lately it ends up sounding I'm filing complaints with the Board of Life and Why Stuff Happens. But sometimes life isn't all glitter and bunnies (for Christopher a life of glitter would be a nightmare) and that's what I'm here to discuss today. Now is your chance to leave and look at perfect pictures on pinterest.


+ At the end of last week and the beginning of this week Annabelle was in the midst of her second round of bronchitis. Every night was rough. She had night terrors, she couldn't find her pacifier when it was in her hand and she couldn't figure out how to drink from the cup she sleeps with. I was so scared something would happen when I was asleep that I had her lay with me on the guest bed for a while. The next night was the complete opposite. She jibber jabbered until ONE O'CLOCK IN THE MORNING. I cannot tell you the number of times I went in her room to give a piece of my mind about her behavior. She wanted her wand. She wanted to talk about Hungry, Hungry Hippos. She dropped (threw) Appletini out of the crib. She wanted more friends to sleep with. She wouldn't stop flipping the light switch on and off so I had to move the crib a foot away from the wall. It's interesting how bad nights happen when I'm just barely coming around to the idea of maybe sometime having another baby. A child who doesn't let you sleep more than 5 hours a night is the only birth control needed.
+ The pipes under the sink leaked and soaked everything in the cupboard below.
+ I got stuck in a snow storm and it took an hour to the drive 28 minutes home.
+ Annabelle's sleep strike leaked into nap time and she repeated the above nonsense for days.
+ Every year I wrap presents while watching The Christmas Card. It's a cheesy movie but I love it and look forward to my tradition every year. Annabelle's nap strike reached a peaked on the afternoon I choose to watch it. She yelled to me for two hours. I eventually got her up and in an attempt to help she unorganized my cards and ripped wrapping paper, spilled her milk and knocked over her snack bowl. The whole thing was a disaster.
+ Sesame dumped all her beads all over the kitchen floor, under the oven, down the cellar stairs and into every corner. I didn't think it through too well when I bought the extra large container of beads.
+ She spilled them again the next day. I've since hidden the beads and might accidentally on purpose forget where they are.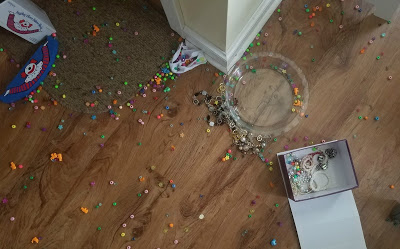 The day I finally checked myself into rehab.
+ We couldn't go to MOPS yesterday because I couldn't get the car out of the driveway due to snow. I've said it before and I'll say it again- I'm from Massachusetts and grew up dealing with snowy driveways. Not counting his 5 years at Fort Drum, Christopher has no snow experience to speak of. My word/advice on the subject should be taken as law and followed. All we have to do when it snows is shovel within an appropriate amount of time so we stay on top of the situation and we'll be able to get in and out of the driveway just fine. It snowed Wednesday night and Christopher said we didn't need to shovel, we'd just drive over the snow. This is what I was thinking on the inside.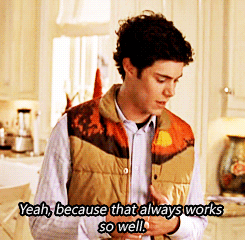 Thursday morning I couldn't get out of the driveway. Last night he finally shoveled (or more accurately, "shoveled" because it didn't look that way to me). This morning I got stuck again. I'll spare you the memes of how that made me feel.
MOVING ON. Stay tuned for future installments of airing my grievances.


The good-
+ I love our Christmas trees this year. Nothing makes me happier at the end of the day than to sit on the couch in the quiet with the trees and mantle lit.
+ One of Annabelle's favorite games for the last few months is wrapping toys and giving them to us or vice versa. She'll wrap them in whatever blanket or bit of paper she can find then makes a production of handing them out and singing Happy Birthday. There's only so many times you can feign enthusiasm for the same toy but it's so sweet. She wrapped these Christmas presents by herself and was so proud. Her favorite part is the tape. She thinks it's important to use half a roll on each gift.


The Christmasy-
+ We decorated our gingerbread house. I'm pleased that no one (read: me) allowed perfectionist or OCD tendencies to get in the way of a good time.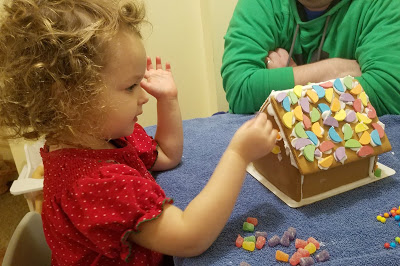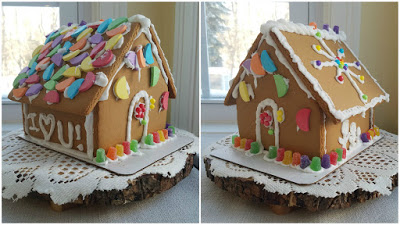 + I'm glad I have a child who loves all things Christmas as much as I do. She says "YOOK, MOMMY!!! IT'S A _______! I YOBE IT!" every single time she sees something Christmas related. It's like the first time every time.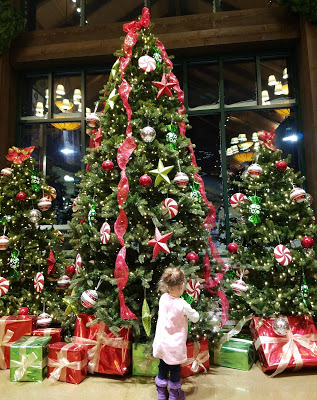 + The next movie on our Christmas watch list is my personal favorite- It's a Wonderful Life. If only I had been born 60 years earlier I would have been Mrs. Jimmy Stewart in a heartbeat.