Several weeks ago AB and I started piano lessons. I brought my meager stack of piano music which was a few classical books, a Pacabels Canon, a Josh Groban song and three Josh Turner songs. The teacher looked at the three Josh Turner's and said, "You're really into this Josh Turner guy, aren't you?"


Yes. Yes, I am. Guilty as charged.
Here we are at our first face to park bench meeting in 2012.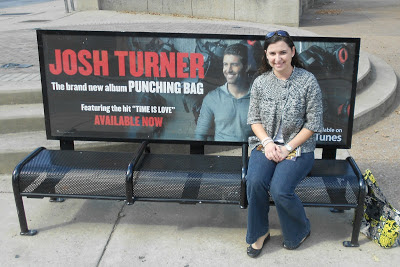 The fact that someone convinced Josh Turner to have a concert in our town is a shocker and a sign that the Lord still does miracles. Nobody cool ever comes to our part of the country. NOBODY. Christopher heard he was coming from someone at work and called me to see if I wanted to go for a belated Valentine's date. I could not have said yes any faster. The concert was the day before we left for a trip with Christopher's family. I can't fathom the disappointment if he was in town the day we left and we missed him. I scheduled a babysitter instantly and counted down the weeks. The day arrived and I was so excited. I told the babysitter to come at 6:15. At 3:00 she texted saying she had the stomach bug for several days and was so sick she forgot to text me earlier in the week. She could still come, but she still felt nauseous. I told her not to worry about it. These things happen and I could find someone else. In my mind, it was PANIC! PANIC! I CANNOT MISS JOSH. I didn't want to ask any friends with kids because they'd need to be at home putting their kids to bed. I was going to ask my friend Amy then remembered she'd be at the same concert. I have no family here to ask. I almost called the theater and asked if we could buy another ticket and she sit on our lap. Worst case scenario, Christopher would have to stay home and I go alone. It would not have been ideal to spend our Valentine date separately or more accurately, me with another man, but drastic times call for drastic measures and if someone had to carry the burden of going alone, I would sacrifice myself. In the end, a girl from work was free to watch AB if we could bring her to her house. I would have brought AB to Seattle for this so it wasn't a problem.
The concert was everything I hoped it would be and more. I was so happy. We hadn't been on a date since the week we lost Elliot in October so we were past due.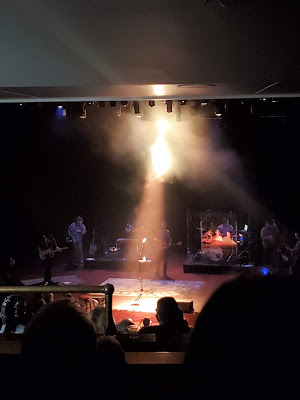 This is when the heavens opened and the angels rejoiced at Josh's arrival.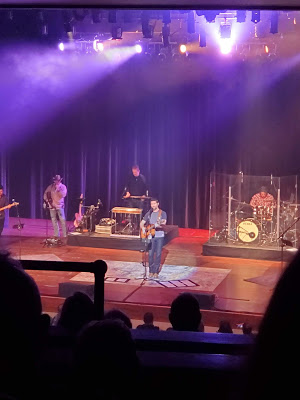 Michelle and Amy from work were also there. The blue lights in this photo were from the police car guarding Josh's tour bus. I'm not saying we actually did walk across the street to investigate, but the police must have heard our joshing around and taken us seriously. (See what I did there? JOSHing around? I'll l see myself out.)