We had a rather unusual weekend. We went to a peanut festival.

Over the many years, we've spent our weekends at baseball games, our nations capital, museums, musical events, the occasional Octoberfest. We've spent several, several weekends at home. Never once have we gone to a peanut festival, but when in Rome!

I knew there would be a parade so when I was getting AB dressed I suggested a dress I thought was festive. She said the dress was "too much like another country flag. Kind of like an Africa flag. This is an America parade." She settled on her disco dress.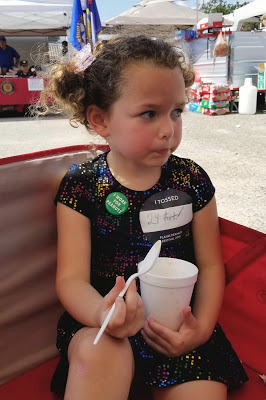 The parade had the usual Shiners in their little cars, an Army band, and several pageant queens. I've not been around the pageant scene much so I didn't know that the US National Forestry and Turpentine Pageants are apparently a Big Thing. The parade had all manner of Miss, Ms, Teen, Little Junior Miss, Tiny Miss, Teeny Miss and Baby Miss ladies. Would I sign my children up for pageants? No. Did their gorgeous crowns make me want to change my mind? Yes, they did.
I did a full face of makeup because I had heard that Jimmy Carter might be at the festival. As a former peanut farmer, he still supports the industry and is the main attraction when he shows up.
I seldom wear eyeshadow these days as it's too hot, but I wanted to make a good impression in case I bumped into Jimmy at the general store. It's been a lifelong goal to meet a president and I wanted to make a good impression. I have a deep, deep fascination with the White House, presidents, and their families. It's no secret that I've been running an eight-year-old campaign for Christopher to be president so I can be First Lady. I may not be a democrat but I am an equal opportunity citizen when it comes to meeting presidents so I purchased a ticket for his book signing. I was afraid to let this moment pass by because all the old presidents are aging rapidly and I was afraid JC might die before I met him.
The calendar may have said it was the first day of Fall, but the thermometer read over 100*. I was sweating from every part of my body as I waited in line. My foundation was melting. Mascara was in little drips under my eyes. I had put sunscreen on my face but not my feet and they were burning as I waited. I had an ice cream stain on my shirt. My once tidy hair was in a messy bun. I truly thought I was going to pass out. The lady two groups behind me was a know-it-all who wouldn't stop talking. For almost an hour she shared her "knowledge" on every topic someone brought up. I am not my best self in the heat and I almost snapped. The only reason I didn't was the lady directly behind me made the incorrect statement that everyone in line was a democrat. Since I am not, I didn't want to give her stories for her next dinner party about the conservative girl who hit the woman in the head with a
Jimmy Carter book about faith.

Eventually, I got to the front of the line and saw the man of the hour. It was a very quick in and out meeting. The man behind Jimmy's right shoulder gave enough glares to get the point across that it wasn't social hour. Keep moving, people! Get your signature and go back out into the heat!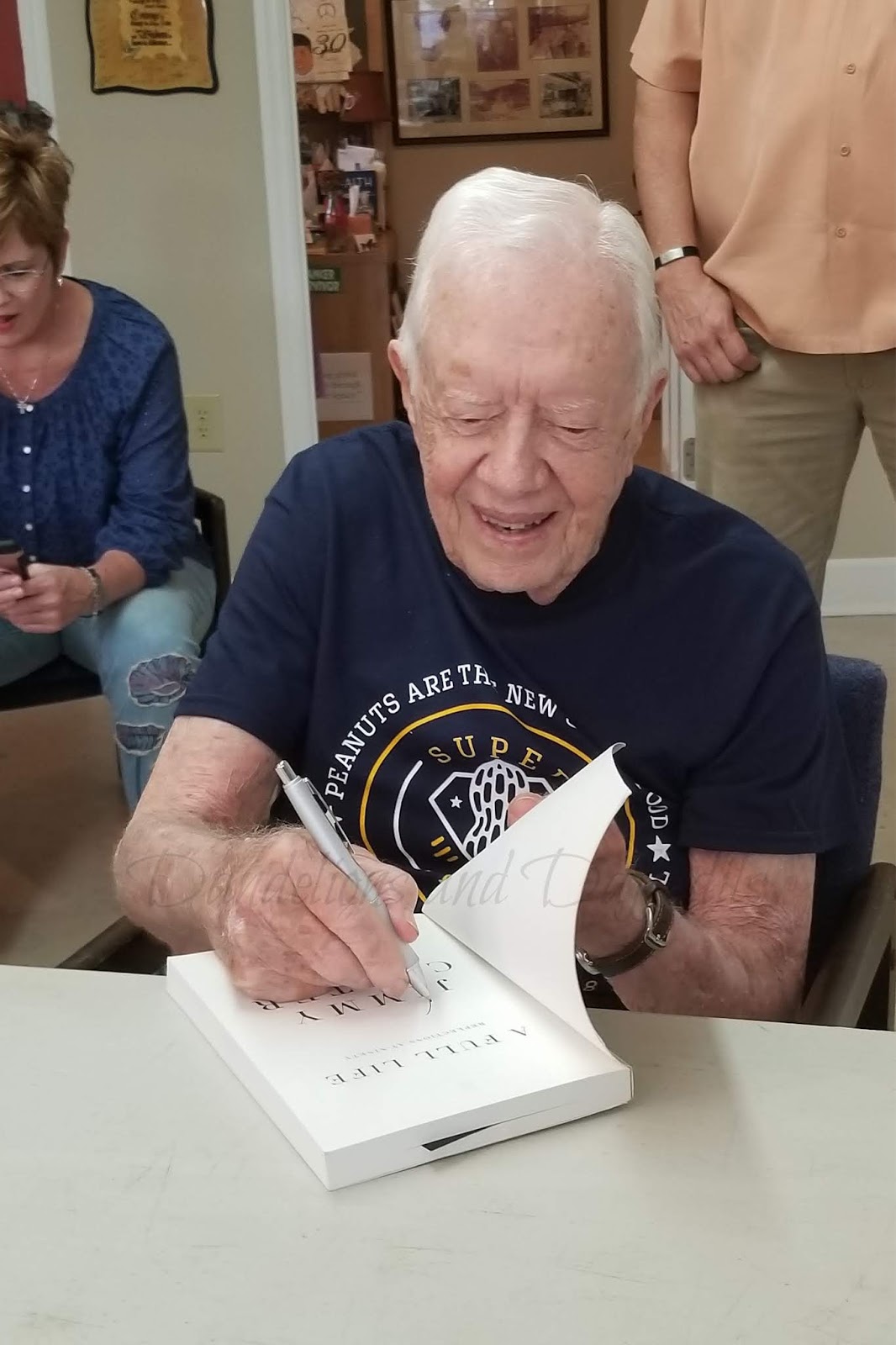 It would have been nice if after my near experience with heat stroke I could have pulled up a chair to discuss the best rooms in the White House, but I can save that for next time. Now that I know where to find him I'll be swinging by his house every weekend.