I am not a a sporty person.
I love baseball and the Olympics but football, soccer and basketball could be banned and I'd never once miss them. I always assumed that I'd have children who played sports and I wasn't overly thrilled about it. It's not that I don't want to give my child the opportunity to excel in sports, it's just that I don't want to do all the driving and sitting through practices necessary for her to become proficient. I want the benefits and glory of an pro athlete child with the work of a 30-minute practice once a week. I have a feeling it doesn't work like that but come back in 15 years and we'll see if I succeeded. I wouldn't mind being a baseball mom, but soccer mom? Thanks but no thanks. Don't even come at me with your talk of me ever being a football mom.
But as life goes, that which I don't want to be is what I have become- a soccer mom.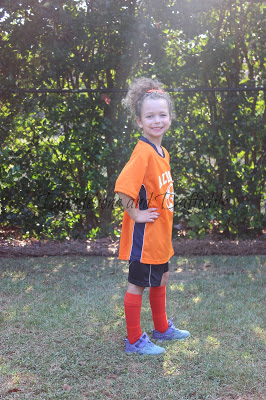 We missed the spring soccer signup but told AB she could do the fall season. She was thrilled and asked endlessly when soccer would start. I had to work the night of her first practice and I felt AWFUL about it. It seemed like a big moment in her life and I was missing it. Not to mention that it won't make me look good when she's giving an interview at the Olympics and mentions how her mom couldn't make it to the first practice. I'm very concerned about how her potential sports career will affect my comfort and reputation.
The tides have turned in an unexpected direction. While I have no desire to watch adults play soccer, I have become a very enthusiastic sideline participant of kids soccer. I like to yell helpful advice from my blanket even though I know next to nothing about the sport. The Strikers are not an organized team and seldom have a clue what's going on, but they try. Antonio is off in the corner practicing is leaping skills. Robert can't decide if he is going to be a useful part of the team or a hindrance. Annabelle is too polite and doesn't want to get the ball from the opposing team, but she has lots of time to practice before the summer Olympics of 2036.